ConvertPad - Unit Converter
3.1.00
A Useful Unit Converter
There were times when people memorized the various conversions in units because there was no other way of knowing the multiplying factor for converting one unit into another. The problem was dire for students mostly who had to memorize because they were required to solve questions and answers while keeping in mind all these conversions where the question was either asked in a different unit or the answer required was in a different unit. Conversion of units is normally required when there is a difference between the adopted unit standard by the countries. For instance, the US uses an entirely different unit system than Europe and this lends importance to unit conversions as it can help you out in understanding the varying numbers. ConvertPad – Unit Converter is a great effort in this regard in consolidating all the conversion factors into one app for easy calculation. From students who can use it to get help in their assignments to people who have daily international interactions who can use it to ensure that they are able to communicate without getting lost or confused with the varying unit conversions.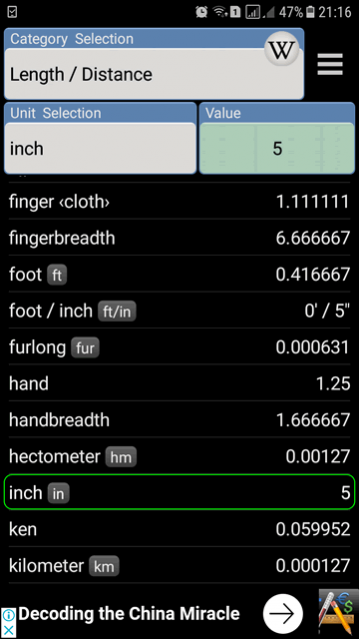 ConvertPad is a very useful unit converter as it consolidates all the conversions for a given unit on a single page. The app has a very direct and easy to understand user interface. As soon as you would open the app, you can get started with the unit conversions. There isn't any fluff or any other distraction and you can get started with the unit conversions right away. You can choose the category and the unit in which you have the value currently. The app would then automatically show you calculated converted value in all the other units for the same category. For instance, if you have the weight in pounds and want it converted, you can simply choose the category of weight and then choose the unit of pounds. Once you will enter your numeric value, the app would give you calculated conversions in carat, centigram, decigram, dekagram, gamma, grain, gram, hectogram, kilogram, microgram, milligram, ounce, pennyweight, quarter, scruple, slug, stone, tons, troy ounce etc. From obscure units to mainstream units, you can get all the answers through this knowledgeable unit converter.
The most likeable and astounding aspect of the unit converter is the variety in the main categories available. There are around 95+ main categories available which is practically huge. The fact that each main category offers conversions in a wide variety of units for that category makes you understand the depth of the app's database. The main categories include mainstream ones like Length, weight, area, volume, temperature, power and pressure to obscure technical ones like permeability, mass fuel efficiency, heat flow rate, heat capacity, charge, surface current density etc. The unit converter also has some very useful categories like shoe size, TOEFL scores, prefixes etc. as well which come in handy in some cases.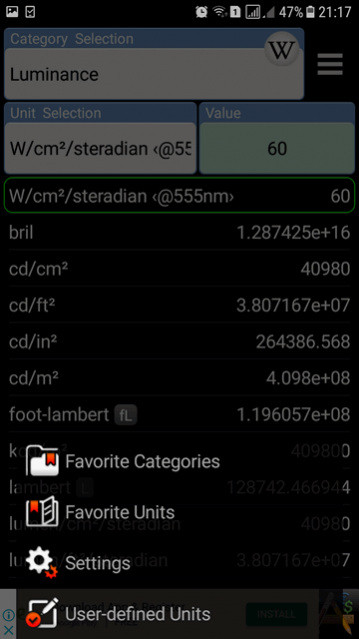 The app does falter a bit with one of its offered categories i.e. Currency conversion. The app only has one unit in this category which is the US Dollar. The app asks you if you want updated currency conversions but only displays the US Dollar as the main currency unit. You can't use another unit and therefore, the category is basically of no use. ConvertPad should look into some of its main categories and ensure that they are also useful to the people rather than just being there to increase the number of main categories available for unit conversion.
Features:
Very easy to use interface
Solid and easy on the eye app design
Over 95+ main categories available for unit conversion
Great option of keeping a record of your favorite categories and units if you use those units frequently
Conclusion:
ConvertPad – Unit Converter is an app which delivers on its promise. The name suggests that it would offer unit conversion calculations and it does that for over 95 main categories with technical and regular use units all available. If you regularly require unit conversion in your life, this app would certainly prove useful.
---
Add a review
Tell us your experience with
ConvertPad - Unit Converter
3.1.00
RELATED PROGRAMS
Our Recommendations
---
---
---
---